| | | |
| --- | --- | --- |
| " | Prove your skill in this competitive mode! During each match, you'll earn Hype by either achieving high placements or eliminating opponents. As you gain Hype, you'll compete against tougher opponents with similar skill level. | " |
— In-Game Description
Arena is a competitive gamemode in Fortnite: Battle Royale, that can be played in Solo, Duo, Trios or Squads. In this mode, you receive points called "Hype Points" for placement, or kills. They determine your League in Arena. Having a certain amount of points can enable you to compete in Cash Cups such as Contender Cash Cup. A lot of pros use this as practice for tournaments.
There are many items that are in the main gamemode of Fortnite: Battle Royale, that is not in Arena.
Take The Fight
If you want to get Victory Royales, always fighting people might not be the best way to win, but in Arena mode you have siphon (regenerating health and/or shield after you get an elimination), and if you use that correctly, it can greatly help your performance in arena. If you want to become a better player, take the fight. It doesn't matter if you die, because when you take that fight it improves you, and prepares you for your next encounter.
Watch the Storm
The Storm moves much more quickly in this mode, and if you don't use your time and tactics wisely, you could very much end up dead in the storm. It is imperative that you keep away from the storm, because it is much more deadly in arena than in normal modes. In Arena, Storm Phases 5-9 are considered "moving" zones. Excluding the 5th zone, zones 6-9 form outside of the current Storm circle, instead of inside it. The 5th zone's circle forms half outside and half inside, often regarded to as the "half-and-half" zone. These zones deal 7-10 damage per second, so be alert of where the storm is.
Storm Surge
Storm Surge is a mechanic which encourages players to fight and deal damage. If there are a certain number of players alive during a certain storm phase, Storm Surge will activate. There will be a warning the zone before it actually activates, and when it does, it deals 25 damage to players every 10 seconds. How to escape this? If you deal more damage than a certain random threshhold, you do not take the above damage. On the right side of a player's screen, it will read their status, whether they are below or above Storm Surge. Storm Surge has a chance of activating in any Arena game, but it only normally happens in stacked lobbies, as players stay alive in those more. Storm Surge will not activate before the 3rd zone. There needs to be less than 70 players in the 3rd storm phase, 50 in the 5th storm phase and 30 in the 7/8/9th phase. In a team based match, Storm Surge instantly eliminates a player with less than 25 effective health even if teammates are alive (does not cause a knockdown state).
Currently Active Playlists
Arena is currently available in Solo , Duos and Trios. Squads not available.
| | |
| --- | --- |
| SOLO | |
| DUOS | |
| TRIOS | |
Strategy
W-Key if you are trying to improve your skill in fighting.
Play for placement if trying to gain hype points.
Farming in Arena gives you more materials than farming in regular game modes.
Do not just use Arena to practice for tournaments, use Creative or Battle Lab to improve your aim, builds and box fighting.
In addition to regenerating effective health after eliminating an opponent, the eliminiated opponent always drop 50 materials of each type in addition to the materials they had before being eliminated.
Points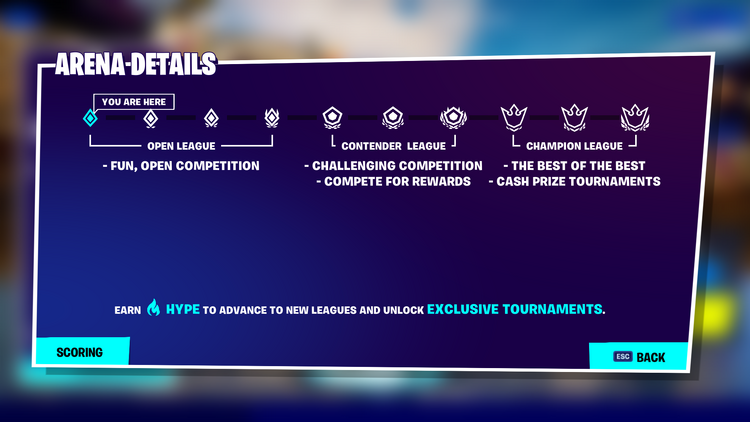 Solos: You will get 60 hype points for placing in the top 25, 30 hype points for placing top 15 and top 5. You will also get 60 hype points for the Victory Royale, as well as 20 hype points for every elimination. This means that 9 eliminations is equal in value for a victory royale plus all preceding placements. For Solos, it is mainly your choice if you want to play placement or W-Key, as 9 eliminations is difficult, but so is getting a Victory Royale. It mainly depends on your playstyle.
Duos: You will get 60 hype points for placing top 12, 30 hype points for placing top 7 and top 3. Like Solos, you will get 60 hype points for the Victory Royale, and 10 hype points for every elimination. For a comparison, 18 kills equals a Victory Royale plus all preceding placements. For Duos, you will probably get more points if playing for placement, as 18 kills is a hard feat to achieve in duos compared to pulling off a Victory Royale, but it mainly depends on you/your teammate's playstyle.
Trios: You will get 60 hype points for placing top 8, 30 hype points for placing top 4 and top 2. Like Duos and Solos, you will get 60 hype points for the Victory Royale, and 7 hype points for every elimination. For a comparison, 26 eliminations is worth more hype than a Victory Royale plus all preceding placements, and 25 eliminations is worth less. For Trios, 26 eliminations is hard to get in trios, but playing for placement is also hard as it doesn't matter how many players are alive, but teams. Again, it mainly depends on you/your teammates' playstyle.
Rankings Table
League
Division
Hype Points

Open
1
0 - 249
2
250 - 499
3
500 - 999
4
1,000 - 1,499

Contender
5
1,500 - 2,499
6
2,500 - 3,999
7
4,000 - 5,999

Champion
8
6,000 - 11,999
9
12,000 - 15,999
10
16,000 +
Bus Fare
Bus Fare is a mechanic exclusive to Arena. Bus Fare does not allow players to play endless arena matches without losing anything. In Divisions 1-3, there is 0 bus fare, meaning that if you play a match and do not gain any points, your overall hype points will stay the same. However, in division 4, there is a bus fare of 10, meaning every match you play in division 4, you lose 10 points. In Division 5, it's 20 points. Division 6 is 30 points. It goes on like this until you hit Champion League, where your bus fare will be 60, meaning you lose 60 points. Also note that if you reach the Division 6 threshhold, and lose points due to bus fare, you will still be in Division 6 and will take the amount of bus fare any other Division 6 player takes.
Vaulted in Competitive
The Weapons listed here are vaulted in competitive gameplay, but are still available in non-competitive gamemodes. Note: New items that are added in non-competitive gamemodes do not normally appear immediately in competitive gameplay.
Assult Weapons
Explosives
Sniper Rifles
Fish
Throwables
| Name | Image | Patch it was Vaulted in |
| --- | --- | --- |
| Grenades | | |
Traps and Devices
Trivia
Arena was first added in Season 7, before the point system was revamped in Season X and once again in Chapter 2: Season 7.
Farming materials in Arena will give you slightly more materials than in regular gamemodes.
As of Update v16.00, Arena Boxfights is now available to players. However, as of now, this does not affect players arena points.
As of Update v18.00, duos, trios, and squads are now automatically filled if joined with an incomplete lobby.