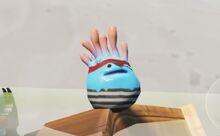 Coral Buddies are a developing civilization that resemble jellylike blobs with beady eyes and a small mouth. They are usually found near beaches and water. Surprisingly, there are none to be found at Coral Castle. They are also found on a glider and a back bling.
They can be found in a few locations such as Coral Cove, The Yacht, The Shark, and Shanty Town. They can also be found in The Shark's vents. After the flood they needed to reconstruct their home. Their city is on the small islands west of Lockie's Lighthouse. Over time, there have been secret quests that the player can complete to help the Coral Buddies along.
Quests
Wood age- The player must give the buddies 100 wood to help their town evolve. An outer wall is added and ships are built.
Stone age- The player must give the buddies 300 stone (to help them build a pyramid) and find the three Sphinx monuments at Lockie's Lighthouse, Coral Cove, and on a small peninsula east of Coral castle. You have to pickaxe the half built monuments to complete them.
Modern age- Between the time of the Stone Age and the modern age, their town goes through two evolutions. Stone-built castles, then modern, present day-looking buildings. There is a rocket pad where the player must give the buddies 100 metal to help them build a rocket that will take off.
Nuclear age- On the pirate buddy's ship, there will be a nuclear waste container that the player has to collect and then give to the nuclear test buddy. The buddies will count down and there will be a relatively large explosion that does not damage anything.
Fallout age- After the Nuclear explosion (or maybe a different one) the entire city was reduced to rubble. Almost nothing is left of the buildings, and there are only 4 buddies left. The buddies all have part of a cyborg's face on their right eye. As well as this, they have a wire sticking out of the top of their heads.
There are different types of Coral Buddies.
Large, blue with coral on head
Medium, teal with coral on head
Medium, purple
Small magenta
Small teal
Small pink
Pirate Buddy (Medium, teal)
Nuclear Test Buddy (Large, blue)
Trivia
Unlike Henchmen and Imperial Stormtroopers, they will not die if pickaxed or shot at. They can be destroyed when destroying the object underneath them, similarly like a Sentry Turret or Camera.
You could obtain the Lobby music version of the song they sing in the item shop named Coral Chorus.
The Coral Buddies have a secret storyline similar to the Gnomes and Teddy Bears.
Gallery