New Pokemon Games - The Loop
Play Sound
Warning:
This article contains speculation and/or fan theories.
Some information on this page may not be factually correct.
The Cube Legion is a division of The Last Reality who were first introduced in Season 6 but first named in Chapter 2: Season 8. They are composed of Cubes, Cube Fiends, Caretakers, the Cube Assassin, and are directly commanded by The Cube Queen. It's they who powered The Mothership during Chapter 2 Season 7. They are some sort of inter-dimensional race from a dimension called The Sideways, which invaded the island during Season 6 and Chapter 2 Season 8.
The strange vortex that the cube began forming above Loot Lake during Season 6 might have been a portal to The Sideways. If the Cube succeeded, a full-scale monster invasion would have been likely. However, all the Loopers gathered and attacked the Cube together, the Cube cracked more and more and eventually exploded in The Butterfly Event.
Locations, Members, and Items
History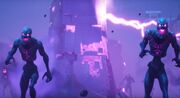 The Cube raised from Loot Lake taking a chunk of land with it. The Cube Island begins travelling above the Island, and took power from the Runes it had created. It returned to Loot Lake and opened a portal to a different dimension, likely The Sideways. After a rough battle, the Loopers eventually overpowered the Cube, causing it to explode.
A Rift Zone in Retail Row would be created by a Rift Beacon which transported a timeline in which the Cube won.
The Cube with the intact Floating Island returns from a Rift Beacon. It again starts traveling above the Island, but ends up doing nothing.
Seeing visions of the future in his dreams, Raz ended up on the island after years and years of research, and got too close to The Spire only to make him corrupted with new powers, which for some reason created a glitched out copy of his original self that we could talk to still and recognized that he messed up. His power soon attract the attention of The Last Reality.
After the events of Operation: Sky Fire, The Cubes have crashed on the island, along with the Cube Queen and theRebooted Cube. During these events, Sideways Anomalies started appearing across the island inverting pois in The Sideways and releasing Cube Monsters that are lead by Cube Assassin. The Queen Cube rolls around the entire island, awakening all of the crashed Cubes. After each Cube's respective awakening, they would create smaller, baby Cubes which would then follow their creators. As they roll, they leave a large trail of corruption stretching to their original starting points. When they arrived at The Aftermath at the center of the Island, all seven Cubes and their babies would then group together to create a mysterious structure known as The Convergence. Just as notably, the mysterious Cube Queen would finally emerge from within the Queen Cube and is now seen hovering above The Convergence, behind an invincible shield.
Combat Music
Sideways Anomalies

| Description | Audio |
| --- | --- |
| Intro | |
| Stage 1 | |
| Stage 2 | |
Caretaker

| Description | Audio |
| --- | --- |
| Patrol | |
| Threatened | |
Gallery