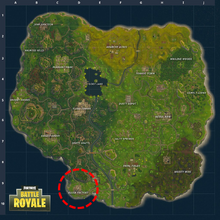 Flush Factory is an outdated location that appeared on the southwest end of the map of the Battle Royale Map. It was a large toilet factory with average amounts of loot. This tended to be a good location to go, as usually a small amount of players landed there and surrounding towns are far out.
The compound to the northeast features a nightclub in its largest building. When approaching, players will hear deep, rhythmic bass beats. It is possible to spray paint the floor but it takes a few tries. An All Terrain Kart and a Shopping Cart can spawn in the parking lot.
It got destroyed by the iceberg since the release of Season 7, but not before A.I.M. was able to land there. It's roof can still be seen beneath the snow.
Images
Community content is available under
CC-BY-SA
unless otherwise noted.