Fortnite is a massive online multiplayer game, made by Epic Games on Unreal Engine 4, that released on July 25th, 2017 as Paid Early Access and as a full release game on June 30th, 2020. It is currently available on PC, PlayStation 4, Xbox One, Nintendo Switch, Android, PlayStation 5, and Xbox Series X|S. The Game currently runs on Unreal Engine 5 as of Version 20.00.
Fortnite is made of 3 distinct game modes: Save the World, Battle Royale, and Creative.
The currency used for every mode is
V-Bucks.
Save the World
Main article: Fortnite: Save the World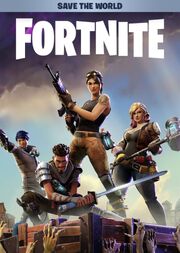 Fortnite Save the World takes place in a world where The Storm, an entity, has wiped out 98% of the population and spawns in Husks and Mist Monsters to attack the living. Homebase recruits you, the Commander to lead heroes into battle and expand the Storm Shield to take back our world from the Storm. Build giant forts, and/or fight hordes of monsters through various missions. Craft weapons, train heroes and survivors, and level them up to fight harder and more challenging Monsters.
Progress through the 3-Zone Campaign and various Limited Time Missions and Questlines every season. Perk your weapons to your liking and complete quests to earn banners that show off your hard work.
Save the World is only available on Windows PC, PlayStation 4, PlayStation 5, Xbox One and Xbox Series X|S.
Battle Royale
Main article: Fortnite: Battle Royale
Fortnite Battle Royale is a gamemode where 100 players launch from the Battle Bus and compete either Solo, or in Duos, Trios or even Squads of 4 for a Victory Royale. Level up the Battle Pass each season for cosmetics, V-Bucks and more. Find loot in the form of Weapons, Items and Consumables. The higher the rarity, the better your weapon is. Be aware of The Storm and run away or else you take damage. Fortnite: Battle Royale also has a variety of Playlists.
Creative
Main article: Fortnite: Creative
Fortnite Creative is a gamemode where you and up to 16 friends can create islands or explore other islands. In this gamemode, players can customize server settings, place prebuilt structures from Battle Royale, galleries (collections of assets from different Battle Royale structures), devices (traps, timers, vehicles, etc.), and items and weapons from other gamemodes, some of which are vaulted.
Development
Fortnite was announced as Save the World at the 2011 Spike Video Game Awards. The first concept of Fortnite was during a Game Jam. Fortnite, at the time was described as "a world where you explore, you scavenge, you build and ultimately you survive."
When development began, Fortnite was being built on the Unreal Engine 3 as it would transition to UE4 when Early Access began. In late 2014, the first round of Save the World's Alpha began. The Alpha showed 4 players navigating through an Open-World Scenario, scavenging for resources by breaking down various object such as trees, rocks, construction sites, etc. Eventually, players would have to use the materials they have gathered to fortify the objective, which at the time, was just an ATLAS (since different mission types didn't exist back then.) As they days progressed, the world would increase in difficulty. Not much is known about the alpha.
As development progressed, more heroes and features were added. The conceptual idea of gathering resources in the environment and building a fort to combat the husk pathing remained the same, with new weapons and tools to help players combat the husks.
On July 25th, 2017, Fortnite released as an Early Access game. A Campaign was added to the game and it got a major UI overhaul for the PlayStation 4 and Xbox One. The idea of lootboxes were added as Llama Piñatas could give random resources. More missions were added and expanded on as well, as Epic continued to experiment and add new ideas such as Weapon Perks and the Hero Loadout Update in Season 8.
System Requirements
| System Part | Minimum specifications | Recommended specifications | Epic Quality Presets specifications |
| --- | --- | --- | --- |
| G.P.U. | Intel HD 4000 on PC; Intel Iris Pro 5200 | Nvidia GTX 660 or AMD Radeon HD 7870 equivalent DX11 GPU | Nvidia GTX 1080, AMD Radeon RX 5700 XT, or equivalent GPU |
| Video Memory | None | 2 GB VRAM | 4 GB VRAM or higher |
| C.P.U. | Intel Core i3-3225 3.3 GHz | Intel Core i5-7300U 3.5 GHz | Intel Core i7-8700, AMD Ryzen 7 3700x, or equivalent |
| Memory | 4 GB RAM | 8 GB RAM | 16 GB RAM or higher |
| Storage | None | None | NVMe Solid State Drive |
| Operating System | Windows 7/8/10 64-bit | Windows 10 64-bit | Windows 10 64-bit |
History
In April 2014, Fortnite's closed Alpha sign-ups began[3] and the game was revealed to be aimed towards a free-to-play model.[4]
In December 2014, the first round of Fortnite's Alpha began.[5]
In March 2015, the second round of the Alpha began.[6]
In Fall 2015, Fortnite was announced to be compatible with Mac computers, and the closed Beta phase began.[7]
Fortnite became available for Early Access on Windows, Mac, Xbox One and PlayStation 4 for those who pre-ordered the game on July 21, 2017 and on July 25, 2017 for those who did not pre-order.[8]
Battle Royale was released as free to play on September 26, 2017.[9]
Fortnite iOS was released on March 12, 2018.
Save the World was set to become free-to-play sometime in 2018, delayed again in 2019, and then finally announced the game would remain a "premium experience".[8]
Fortnite became available for Early Access for the Nintendo Switch on June 12, 2018. Shortly after the release, PlayStation 4 crossplay was disabled due to Sony's decision.
Fortnite was released on NVIDIA Shield TV, an Android-based platform, on July 12, 2018.[10] No other announcements about Android releases were made at this time.
Fortnite for Android Beta was released on August 9, 2018 to owners of Samsung mobile devices. Beta access was expanded to other mobile devices on August 1.
Fortnite for iOS and iPadOS got officially blocked from the App Store on August 13, 2020 and users who have the game downloaded are still able to play it, but this version of Fortnite is no longer supported, meaning that updates will no longer be delivered, being 13.40 the last version for iOS. After the 14.00 update, players accessing Fortnite will still be able to play the 13.40 version of Fortnite, but will not be able to access any new content or the new Battle Pass.

This version of Fortnite can still be sideloaded onto iPhones and iPads through external methods; however, they still will not be able to access newer content past Update v13.40.

Fortnite was released for PlayStation 5 and Xbox Series X|S on Day One.

New Raytracing Effects and Graphical Updates Added. [11]
Volumetric Clouds were introduced
New Storm Effects for Battle Royale.
Haptic Feedback for the PlayStation DualSense Controller.
Being able to load into the Battle Royale Lobby and select a Game Mode from the Home Screen via PlayStation5 Activities.
Gallery
References