Live At Risky is the first Live Event of Chapter 2. It was originally due to take place in Risky Reels on December 14th, 2019 at 2PM ET, however due to player taking longer than expected to log on the event was pushed back by 10 minutes, so it started at around 2:10PM ET.
The event starts with an intergalactic space battle to be followed by the Millenium Falcon landing at the platform. From there, you can see familiar faces exit the spaceship like Star Wars director J.J. Abrams.
Before the event actually starts, the director asks everyone what the scene is about by stepping on the platforms near the stage. Afterwards, the scene is being premiered, it has a length of about 1 minute.
After the scene is done, they ask the players about their favourite lightsaber colour, but is interrupted by another battle. Then, the game goes slow-mo, and Emperor Palpatine makes his threating broadcast to the galaxy (mentioned in Star Wars The Rise of Skywalker) as the ships leave the Battle Royale Island and the event ends. However, they left a chest that contains a lightsaber, the colour of the lightsaber depends on your vote on the last question.
Servers are shut down in order to bring the new features into the game.
Video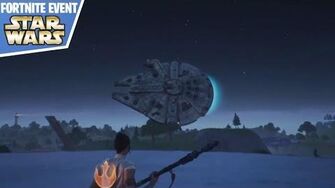 Community content is available under
CC-BY-SA
unless otherwise noted.