For The Article On The Season 9 Version, Please See Mega Mall
Retail Row is a location on the east-midlands of the Battle Royale Map. It is a large plaza with many buildings. This is often a highly used landing area for players because of its high levels of loot. This location contains a number of shops and buildings, and houses, with many having a possible chest spawn in them.
Since the location is small and narrow, it's ideal for players to use close range weapons, like shotguns.
Buildings
Joel's Pub
.Joel's Pub is a classic bar made of brick that serves beer and alcohol. Joel's Pub is named after an Epic Games Dev known as "Joel" who died during Fortnite's early development.
Wooden Gazebo
This Wooden Gazebo is the same as Chapter 1's with it having a few tables to eat at and wooden stairs at the ground near the Road to walk up. This is near the Blue House.
Yellow House
The Yellow house is a simple Wooden yellow house with a Living Room when you walk in, which a Chest Spawn. There are also 3 Bedrooms, a drawing room and a bathroom.
This section is empty. You can help Fortnite Wiki by adding new information, but confirm if the information was officially confirmed by the Epic, or trusted Fortnite Dataminers.
History
Season 7
During Season 7, the Durrr Burger and Uncle Pete's Pizza Pit restaurants got added, due to Greasy Grove being frozen over.
Season 8
Near the end of Season 8 on May 4th, 2019, the whole east side of Retail Row was destroyed due to the Volcano eruption right after the Nexus Event, where a giant ash would land on that side.
Season 9
With the start of Season 9 on May 9th, 2019, Retail Row was re-named to Mega Mall with the Mega Mall put in the previously destroyed part of the location.
The roads of the location has changed, the houses and the taco shop at the location were still in play if it wasn't destroyed by the volcano.
Season X
In Season X, the second Rift Beacon reverted Mega Mall to Retail Row. This time, the Fortnitemares husks are involved.
This is because Season X celebrates the best of Chapter 1, and Fortnitemares occurred twice on that chapter.
Chapter 2: Season 1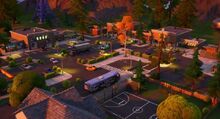 In Chapter 2 - Season 1, despite the old map being sucked into a black hole, Retail Row survived, and is now placed in the east side of the new map. This time, the husks are removed to provide new players a fair experience.
Chapter 2: Season 2
In Chapter 2 - Season 2, Ghost (E.G.O.) and Shadow (A.L.T.E.R.) took over Retail Row with the Ghost Flowers and Shadow Lamps stores added.
Chapter 2: Season 3
In Chapter 2 - Season 3, Shadow (A.L.T.E.R.) took over Ghost Flowers and combined it with Shadow Lamps.
Chapter 2: Season 4
Jennifer Walters' Office has been added replacing the small brick house. Also the Ghost Flowers and Shadow Lamps offices have been abandoned, the last GHOST henchman could be found in the back part of the store before v14.10. After v14.10, the GHOST Henchmen will be found with a SHADOW Henchmen at the gas station near Stark Industries (Formerly Frenzy Farm).
Trivia
Retail Row, along with Salty Springs and Pleasant Park have been around since the beginning of Fortnite, being the oldest POIs in Fortnite history.
Retail Row is the only rift zone location to return on the Apollo Map.
Community content is available under
CC-BY-SA
unless otherwise noted.