For the article on The Chapter 2 Season, please see Chapter 2: Season 5
Season 5 of Fortnite: Battle Royale, with the slogan "Worlds Collide", started on July 12, 2018 and ended on September 26, 2018. It was originally supposed to end on September 24th, 2018 but Epic Games extended the end date to match with the 1 year anniversary of Fortnite being Free to Play. You can see a full list of all cosmetics released this season here.
This season's theme revolves around world collision, taking things from the real world to the Battle Royale Island.
How did it Start?
Season 5 continues the storyline that was started in Season 3.
When the rifts started appearing in Season 4, they were bringing multiple things onto the island. When Season 5 started, the rifts have carried an entire desert to replace Moisty Mire and the new POI was called Paradise Palms.
The Season 5 Storyline
Introducing Drift
Meanwhile, in the real world, the Durr Burger from Fortnite has landed in the California Desert. A vandal known as Drift is spray painting the burger next to a ATK, when a rift sucks him into the island. He meets the road trip crew, consisting of Brite Bomber, Rex, and Cuddle Team Leader, as they explore the island together.
Introducing Kevin
Meanwhile, the Crack in the Sky, which has grown since its creation, began to shrink and turn purple, maybe because of the storm. It eventually shrinks to a tiny hole in the sky and begins to strike and destroy cacti by Paradise Palms. It strikes all of the cacti and spawns a giant purple cube shaped entity. The entity was nicknamed Kevin by fans of the game. Kevin begins moving through the island, creating magnetic domes and leaving mysterious runes behind.
How did it End?
After imprinting seven of these domes, Kevin travels to Loot Lake, enters the water, and dissolves. The water in Loot Lake turns purple and bouncy as a result. Later on it floated and took the Loot Lake house with it, creating Leaky Lake. Season 6 began at this point.
Battle Pass
The Battle Pass costed 950 V-Bucks, the same as the previous 4 seasons. This Battle Pass introduced a new type of cosmetic: Toys.
Since this season, you can complete outfit challenges even after the season ends. The Omega and Carbide challenges were locked, however.
Rewards
Premium Tiers
Free Tiers
Achievement Rewards
Road Trip Rewards
Map Changes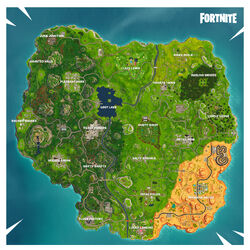 Things from the past and present in the real world start to appear in the Battle Royale Island, amd Some Locations were taken away replaced with new ones.
New Locations
Removed Locations
New Features
Content Update v5.00 (July 17th, 2018)
Content Update v5.10 (July 31st, 2018)
Update v5.21

(August 15th, 2018)
Content Update v5.30 (August 28th, 2018)
Content Update v5.40 (September 11th, 2018)
Update v5.41

(September 18th, 2018)