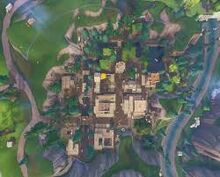 Tilted Town was a location in the west-midlands of the Fortnite map. It replaced Neo Tilted by the first Rift Beacon in Season X. Entering the location restricts the ability to build or break anything to match Wild West technology in the past.
The 8th Rift Beacon was placed there. On September 21, 2019, the beacon transformed Tilted Town into Gotham City at the beginning of the Fortnite X Batman crossover.
Appearance
Tilted Town is a wild-west themed location with dirt roads, an l-shaped river, and stables. It is located inside its own sphere of influence like the orb in Loot Lake. In this sphere of influence, you cannot build or break structures. Pickaxes, guns, lightsabers, explosives, and anything else that can destroy structures will not. 
Trivia
Images
Community content is available under
CC-BY-SA
unless otherwise noted.