Update v11.30 of Fortnite released on December 12th, 2019.
What's new in Battle Royale
Gameplay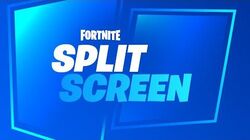 Introducing Split Screen.
Preview what's in the Item Shop using your mobile device.

With Party Hub, you can now preview what's new in the Item Shop before loading into the game.
To do this, open Party Hub, swipe right, and tap "Preview Items."

Increased the daily Item Shop gifting limit from 3 to 5.
Changed Ammo Indicator.

Now a visual representation of remaining ammo number rather than a solid bar.

You can now choose when to transition from the "Eliminated By" screen to the end-of-match XP screen.

To transition to the end-of-match XP screen, press "Continue" on the "Eliminated By" screen.

Made preparations for the Star Wars: The Rise of Skywalker live event at Risky Reels on December 14, 2 PM ET.
Save the World
Holly Jolly Ransom Questline

Time to decorate trees, sing holiday songs, and… resolve hostage situations? Help Homebase's Heroes rescue Crackshot in the new Holly Jolly Ransom questline.

Frostnite Returns!

Stay warm during this long winter night! Keep the Burner filled with scavenged BluGlo because when it runs out, things get real cold, real quick. As the burner health decreases the Storm Shield shrinks, so fill 'er up!
Survive as long as you can with only your basic starting weapons, schematics, and wits to protect you.
The Krampus Smashers who dwell in these cold regions are dangerous but worth the fight, dropping some much needed BluGlo. Be on the lookout for weekly challenges in the coming weeks!
Jingle Jess - Nobody is too cool for Christmas, not even Jess!

Standard Perk: Bear with Me

Increases T.E.D.D.Y duration by 4 seconds.

Commander Perk: Bear with Me+

Increases T.E.D.D.Y duration by 12 seconds.

Sentry Gunner Krampus - He's not here for the presents!

Standard Perk: Racking up the Coal

Each R.O.S.I.E elimination increases R.O.S.I.E damage by 4%, up to a maximum of 30 stacks.

Commander Perk: Racking up the Coal+

Each R.O.S.I.E elimination increases R.O.S.I.E damage by 12%, up to a maximum of 30 stacks.
Creative
Highlights
Trick Tile Device - Create pitfalls and passageways - Use this device to make floors and walls appear and disappear at will.
Tracker Device - Set up quests and custom challenges for players with the new Tracker device.
Slurpy Swamp Galleries - Mix in these iconic props and galleries onto your island and create your own slurp stations. A Chapter 2 favorite!

7 Prefabs and 5 Galleries added.

Archipelago Island - Test the waters of a new island with unique land formations.
What else is new?
Gameplay
Added new Options to the My Island UI Menu affecting the Game End screen.
Added new option to the My Island Game Menu affecting Team sizes.
Galleries
Added lighter floors to the Blue Military Gallery A Blue.
Added a Holiday Bush to the Holiday Gallery.
Added the Elevator Door prop to the Art Deco Prop Gallery.
Added a wall version of the Arch Half Extension to Castle Gallery A.
Devices
Added a new Advanced option to the Capture Area device.
Replaced the Display Icon option in the Conditional Button Device with new options.
Added two new options to the Mutator Zone device.
Added Grant Gold on Elimination option to the Class Designer device.
Added new options to the Button device.
Added several options to the Speed Modulator device.
Added an additional value to the Reset Delay option on the Random Number Generator device: Never Reset.
Added two new options to the Prop-O-Matic manager device.
UI & Social
Added filter tags to the content browser item details panel.
Added colored pips to the property editor settings.