Update v16.40 of Fortnite released on May 11th, 2021. It brought the Marksman Six Shooter to Battle Royale and Summer additions to Creative.
May 13th Changes
Wild Week #2
Reel in the aquatic goods to take on this week's Legendary Quest with the help of more abundant fishing gear and prime fishing conditions!
Weapons + Items
Gameplay
Fishing spots usability increased from 1-3 times to 3-6 times.
Spawn rate of fishing spots increased to 80%.
You can no longer get ammo from fishing.
Overview
Your offering will be applAUded.
General
Added a "Request to Join" feature, where it sends a request to players with a private party to join them.
Bug fixes
Fixed visual issues with Toon Meowscles and similarly-styled Outfits on certain platforms.
Fixed a issue where players couldn't create system-level parties between PS5 and PS4 when playing Fortnite.
Fixed a issue where the trail color of the Harmonic Axes Pickaxe didn't always match the selected Style.
Fixed a issue in Nintendo Switch where in docked mode, players were shown a 'Keep These Video Settings?' message and were unable to change their custom controls.
What's new in Battle Royale?
Orelia Arrives
Word has it a mysterious island has risen from the ocean, occupied by a gleaming monarch who demands tribute.
Exotic Marksman Six Shooter
Get ahead in battle with the new Marksman Six Shooter, an Exotic that rewards aiming ability!
Battle Royale
Weapons + Items
Gameplay
Bug fixes
Fixed a issue where players would rarely find themselves dropped at a different location than where they were gliding towards after jumping out of the Battle Bus.
Fixed a issue where long-pressing the Inventory button to pull up the Crafting tab, players would sometimes see their first Craftable item selected instead of their equipped item if they had multiple craftable Items in their Inventory.
Fixed a issue where the "Hunt Wildlife" Quest was not tracking progress properly.
Fixed a issue where using a Shockwave Grenade near a vehicle would sent them flying away.
World
The 'Isla Nublada' landmark was added south of Flushed Building.

Find her on the Island, and offer tribute in the form of Bars. But be warned, not everyone who has seen her has returned.
Added the Orelia NPC alongside it.
What's new in Creative?
Rev up your creative engines. The v16.40 update Fortnite Creative update enhances your ability to make racing games with the new Race Manager device!
Surfboard
Go catch some waves with the Surfboard!
Motorboats
Set sail and get ready to take on the high seas!
Summer Callout
Take us to #CreativeSummer!
Want your game to be featured during Fortnite's Summer event? Send us your sunny summer games by June 11 for a chance to be featured.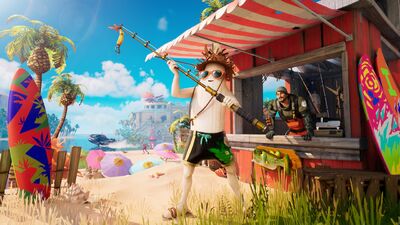 Creative
Race Manager
In our v16.20 update we introduced Joyride vehicles and the Race Checkpoint device. This week's addition of the Race Manager device puts you in pole position to make even more advanced racing modes!
Creators can now track and display the number of completed laps, race times, and your best time! The Race Manager also opens up a highway of possibilities for new game types: Time Trials and multiplayer circuit-style tournaments are just some of the game types you can create.
To learn more, read about the new device for the Race Manager on the recently-released Fortnite Creative Documentation site.
New Summer Features and Vehicles
All new summer themed content is coming your way, Creators. Jump into the game and check out the fully playable Boats, Fishing Zone, and an all new item; the Surfboard! Create boat races, a fishing competition or hang 10 as you create a surfboard trick course. Get that beach party started early as we head into the Summer months!
If you're planning on creating with the new content, Be sure to check out the Summer Creator Callout for a chance to be featured in our to-be-announced Summer event!
Gameplay
Bug fixes
Fixed an issue where players were not able to rapidly edit with a blueprint out.
Island
We have made a material adjustment to all Grid Islands to improve the visual clarity of grid lines and surface area. The new flat material has less noise compared to the older concrete material and projects less light reflections. Removed the older Flat Grid Hub, Floating Island Hub and Grassy Hill Hub from the Island Create Menu since we have shifted to a new hub and portal layout.
UI
Bug fixes
Fixed an issue where "Details" and "Back" buttons overlapped in the Creative Inventory.
Fixed an issue where the Recent Islands list did not update.
Prefabs + Galleries
Bug fixes
Fixed an issue with some floors in the Coral Castle Center Prefab not loading the material correctly.
Fixed an issue where the full roof assets from Coral Castle Prefabs & Gallery would not display a health bar when damaged or take damage from weapons.
Fixed an issue with the snow piles from the Ice House Prefabs & Gallery showing a one-sided texture.
Device + Items
Bug fixes
Fixed an issue where the Health Powerup device did not fully drop to the floor when enlarged.
Fixed an issue where the Baller's Grappler pulled vehicles towards the Baller instead of the other way round.