Roblox: DeepWoken - The Loop
Play Sound
Update v17.00 of Fortnite was released on June 8th, 2021. It started Chapter 2: Season 7 and brought many new features.
Battle Royale
Introduction
Sent to the Hot Saucers mailing list:
It's clear we were right about the existence of Aliens, but there's still so much we don't know. Fortunately, we're able to collect data on them while also investigating Doctor Slone and the IO in general. We believe the Aliens and IO have advanced tech in the works for the future, but we've put together some files on the tech they're using against each other right now (files attached). We're going to keep investigating.
It's recommended we take advantage of this technology for our own protection.
-Mari
Files on Alien and IO Inventions
Try not to let a UFO (called "Saucer" by the Aliens… and us) catch you. It won't eliminate you, but in an act of merciful rudeness, it will take you to a random place on the Island.
You don't have to run, though. Shoot a Saucer down and it's yours to pilot. The Saucer's equipped with an abduction beam and an energy cannon. Let your squad stand on top for extra offense!
---
This Alien creation fires a continuous beam and only needs to stop to recharge. We're not quite sure who "Kymera" is, though.
When we tested this weapon out, it seemed powerful… but not so much on structures. If the Aliens succeed, at least we know how to take cover.
---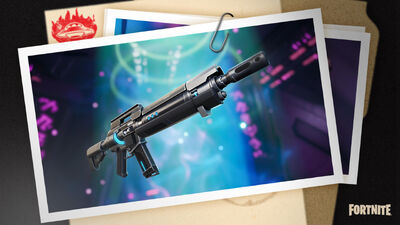 An invention from the IO, the self-proclaimed Island defenders. The IO brags this weapon is effective whether aiming down sights or not. Reliability is its key feature, they claim.
Doctor Slone has a special, more powerful version of the Pulse Rifle reserved for herself, so you'll need to get confrontational to call it your own.
---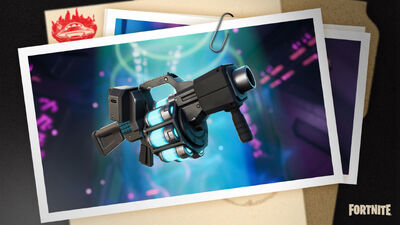 Another IO invention. Survey an area from a safe distance by firing its Recon Bolts, which mark all opponents (and Chests) in its diameter. There's a limited amount of Bolts you can have out at a time, but don't worry about finding more: the Recon Scanner regenerates Bolts automatically.
---
One would expect the Rail Gun to be from out of this world. However, it was actually created by the IO. This sniper can shoot through surfaces, but this breakthrough is balanced out by its visible targeting beam. Not a surprise from the IO, it does extra damage against Saucers.
Crafting File: Nuts and Bolts
The arrival of Saucers has made it rain Nuts and Bolts, adding a new dynamic to crafting on the Island. With this new crafting ingredient, you can craft familiar weapons from the Island's past. Combine Nuts and Bolts with any Assault Rifle for a Burst Assault Rifle, with any Submachine Gun for a Rapid Fire SMG, and with any Shotgun for a Lever Action Shotgun.
These craftable weapons don't have pre-built versions to pick up, so collect any Nuts and Bolts you come across. It seems Nuts and Bolts have replaced Mechanical Parts and Animal Bones, which would explain why we haven't seen any Makeshift weapons around.
A File for the Future
We've made files for all we know so far, but like we said, we believe there's more to come from the Aliens and IO. It's only a matter of time before a new surprise descends upon us...
Creative
Introduction
A new season of Fortnite is here, and v17.00's update for Fortnite Creative brings a new Hub Island template and gallery prefab, as well as the HUD Controller device to allow you to get rid of unnecessary clutter. The update also delivers a visual to several devices and additional gameplay adjustments to assist Creators.
Hud Controller Device
We know not every game is about shooting/building/editing, and we've taken that into account with the introduction of the HUD Controller. Inspired by Creator feedback, with this device you can now hide elements of the player HUD that aren't relevant to your game, allowing your players to experience a more streamlined look and feel. Read more details on the Hud Controller Device within the Fortnite Creative Documentation website.
Hub Island Template
To improve the player experience when entering Creator Hubs, we've updated the Hub Island to include two new templates: the Hub Spoke and Hub Cardinal.
The Hub Spoke template includes matchmaking portals that are now closer and are displayed in a rounded setup. There will also be three upfront and center matchmaking portals with interactive switches to turn on/off each area's matchmaking portals.
The Hub Cardinal is an additional style that is similar to the spoke but features matchmaking portals to the North, East, South, and West.
Prefabs & Galleries Get Glass
The new update introduces glass prefabs and galleries for the first time to Fortnite Creative. Shout out to @MaferWorld for coming up with the community concept for the Glass Material Set!
Within the set, Creators can select the color of each individual asset and also resize or move these assets to create layered works of art. The set features a Glass Gallery of building assets and a Glass Prop Gallery.
Matchmaking Changes With Play Menu
The first change you will notice is the removal of the featured portals. Previously, when matchmaking into Creative mode through the Play menu, players could adjust the Featured Islands from the kiosk. We've made this change to give players a better opportunity to discover new islands and experiences organically to discover new islands for our players and creators. Note:The Featured portals available through the Create menu will still be available.
Gameplay Updates
We've made quality of life changes to the following areas
XL Grid Island

New XL Grid Island Material matches the Spatial Thermometer grid spacing.

New Resources

We've added the following resources from Save the World for use in games:

Fibrous Herbs, Flower Petals, Rough Ore, Planks, Rough Mineral Powder, Simple Mineral Powder, Fine-Grain Mineral Powder, Char-Black Mineral Powder, Oxidized Mineral Powder, Quartz Crystal, Stringy Twine, Simple Twine, Sturdy Twine, Peaky Twine, Carved Twine, Blast Powder,

Rusty Mechanical Part

,

Simple Mechanical Part

,

Study Mechanical Part

,

Sleek Mechanical Part

,

Efficient Mechanical Part

, Rotating Gizmo, Copper Ore, Silver Ore, Malachite Ore, Obsidian Ore, Brightcore Ore, Shadowshard Crystal, Sunbeam Crystal.
These can all be found in the Consumables tab.
Devices
Added the HUD Controller device.

This device allows you to hide individual elements of the player HUD during the game to remove any unnecessary clutter from the play experience.
The following HUD elements can be disabled with the device: All, Mini Map, Info Box, Storm Timer, Player Count, Elimination Counter, Round Timer, Round Details, Build Menu, Player Inventory, Team Info, Health, Shields, Experience UI (Battle Pass), Wood/Stone/Metal/Gold Resources, Reticle, Pickup Stream, Equipped Item Info.

Added a new option to the Trick Tile device.

Reset After: (Range from 1 second - 10 minutes)
This causes the Trick Tile to reset automatically after the specified amount of time has elapsed.

Added a new option to the Sequencer device.

Send Player Information: Yes, No (Default: No)
If set to Yes, the sequencer will pass the player who activated it as the Instigator to any devices triggered by the pulse.

Added Class restriction settings to the following devices:

Player Spawn Pad, Player Checkpoint Pad, Teleporter, Conditional Button.

Added new functionality to the Vending Machine.

All 3 items added to the Vending Machine can now have their resource costs set separately in Wood, Stone, Metal or Gold.
Device Visual Updates
We've updated the visuals and added a glossy effect on the following devices:

Player health device
Save point device
Race manager device
Race checkpoint device
Gameplay
Bug fixes
Fixed several issues with the Damage Volume device.
Fixed an issue where the Creature Placer was not spawning fiends correctly.
Fixed an issue that caused player Pickaxes to change when using Changing Booth.
Fixed an issue that prevented Bows from doing damage to the Choppa.
Fixed an issue where games were not waiting for the full duration of the auto-start timer before starting the game.
Island
Bug fixes
Fixed an issue that caused the "My Island" option to be greyed out.
Fixed an issue that caused memory to be artificially higher on the XL Islands.
UI
Bug fixes
Updated the inventory icons for the HUD Controller, Save Point and Race Checkpoint based on updated materials to the devices.
Added a "Customizable" inventory filter to more easily find galleries with customizable assets.
Tools
Bug fixes
Fixed an issue that allowed the Phone Tool to be used outside normal boundaries.