Videogj is an Administrator for the

This is my user page! I was an admin on Gamepedia, and now I am an Admin here!
Hi! Videogj was a Wiki Guardian (Gamepedia equivalent of Admin) on Gamepedia, so if you needed anything to help with the merge/making Gamepedia users comfortable here, I am here to help! I have been an avid Fortnite player since Chapter 2 Season 2, but have played since Season 1, and first got the Battle Pass in Season 3. His main focuses are Battle Royale, yet I also have Save The World. I also play Creative too. You can call me Video!
Rank
Admin
My email is videogj24@gmail.com if you need me! My discord is above.
I was an editor and admin, like I said above, for the Gamepedia wiki. Here is the link to my Gamepedia account: https://fortnite.gamepedia.com/UserProfile:Videogj For an image of my account specifics, here you are:
Image
Building Images
Overview
Transferring Images from Fortnite in-game buildings/structures into the wiki.
Status
Working On Chapter 2: Season 6 Landmarks. Working on Chapter 2: Season 5 Named Locations
Completed
Fandom-Gamepedia Merge
Overview
Working on transferring Gamepedia info over to Fandom.
Status
Working on building images, and on transferring other Gamepedia info.
Completed
Locker
Overview
Currently working on finishing out my locker section and user page.
Status
Working on styles/new cosmetics.
Completed
Base page for outfits, still working on styles.
Location Pages
Overview
Working on transferring over location page information over from Gamepedia.
Item Shop History
Overview
Transferring all item shop history over to Fandom.
If you like Gamepedia's layout, this will help get you the closest to that as possible. There are multiple steps to get there, but if you do them correctly, your wiki should look like this:
Image
Step 1: Transparency and Background Image
This step will help you make your wiki transparent, so you can see the background image.First, you need to go to the link https://fortnite.fandom.com/wiki/Special:Mypage/common.css Then, you will need to copy this down in that page. To get the HTML, go to User:Videogj/common.css and copy down the text there. This will make the background of your wiki have the current image you see in the photo above, and make the wiki slightly transparent, so you can see it. If you want to change the transparency, change the number on this line --oasis-community-background-opacity: 0.75 to whatever you want, between 0 and 1, with 1 not transparent, and 0, fully transparent. If you want to change the background image, take the htpps:// link inside of the parentheses, and change it to whatever image URL you want. If you want to keep your wiki background white, this is your final step. Using a white background is easier for seeing links,and editing.
Step 2: Dark Mode
This is the more complicated of the 2 steps. You will first have to download Dark Reader (https://chrome.google.com/webstore/detail/dark-reader/eimadpbcbfnmbkopoojfekhnkhdbieeh?hl=en) from Firefox or Chrome. Then you will have to go to the fortnite wiki Main Page. From there, you will copy these settings down on your dark reader extension. Like I said above, dark reader is useful for viewing, but for editing and viewing links, it makes it harder. When using those settings, you can change the Brightness, Contrast, Sepia, and Grayscale to suit your needs. If you want to, when viewing, have it on, and when editing, have it off, then use Alt-Shift-D to toggle it. That will switch it instantly. In visual editing, it will also will affect:
A) Rarity templates (the colored ones) will randomly darken and lighten, do not worry about this as it is purely visual.
B) When copying the headings in visual editor, sometimes the header will actually have no color instead of white, but due to dark mode it barely changes.
C)Those only effect visual editor.
Images
These are the settings you will need to have to make sure that it only turns your websites dark on Fortnite Fandom.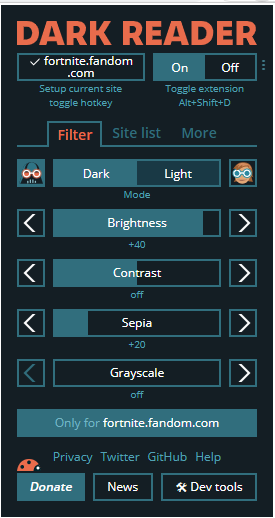 Summing it Up
Hope this worked for you! If it didn't ask me if you have any questions!
If you want to be recognized for your gamepedia achievements/Statistics, it is quite easy! All you have to do is Upload a screenshot of your achievements section, just like this:
Image
Summing it up
In order to upload it, use that same model for the image title, but change Videogj to your username! Below that/above it, link your Gamepedia user page to your user page! This way, you will get credit for all of the great work you completed!
This is a collection of all of Videogj's Locker cosnetics! It contains every cosmetic, and in the future, style, that they own. It is currently in progress.
Gaming Legends Series Outfits
Gaming Legends Series Backblings
Star Wars Series Backblings
Legendary Harvesting Tools
In progress
Rare Harvesting Tools
Marvel Series Harvesting Tools
DC Series Harvesting Tools
Community content is available under
CC-BY-SA
unless otherwise noted.